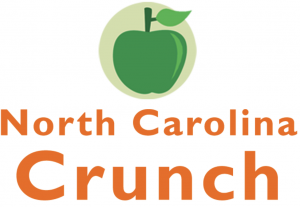 The NC Crunch, from the Farm to School Coalition of NC and the NC Farm to Preschool Network, is designed to celebrate agriculture, nutrition and farm to school. It offers kids and adults across the state an opportunity to taste and learn about NC grown fruits and vegetables. Individuals, families, groups, organizations, agencies, early care and education sites and schools can participate in the NC Crunch. This year, just over 287K kids and adults at 942 sites across the state participated in the NC Crunch. Over the last four years, 805,061 kids and adults have been reached through the campaign. The goal is to reach over one million by next year.
Did you, your family, group, organization, agency, early care and education site or school taste and learn about a NC grown fruit or vegetable for the NC Crunch? Then, please make sure you sign up by December 15 at 
https://growing-minds.org/north-carolina-crunch
 to be counted. Help us reach 400K participants for the 2019 NC Crunch. And, share your photos on social media using #NCCrunch2019, #F2SMonth and @F2SCoalitionNC.