The Halifax County Schools Green Leaf Farm contributes to the mission of health and sustainability in the surrounding community by nourishing the minds and bodies of the students and community at large through affordable fresh produce and supporting the local economy. This project will give present and future generations an opportunity to view agricultural education as a prominent and thriving industry that serves everyone.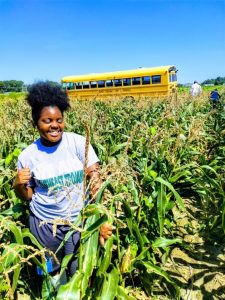 Green Leaf Farm is a 12- acre farm that grows fresh produce in Halifax County. It was developed from only 2 acres and is expanding every year. Students help to grow collards, cabbages, broccoli, mustard, turnips, arugula, kale, lettuce, squash, snap beans, cucumbers, sweet corn, cantaloupe, watermelon, okra, and zucchini. There are plans to increase the variety of vegetables grown and to plant fruit trees. Halifax County students cultivate produce that can be used in dining facilities across North Carolina. Through this process students get an entire view of the process from farm to table, while picking up valuable skills, like marketing, communications, logistics, customer service and an array of other skills. Programs like this help students see the importance and viability of agriculture in their community and in the world at large.
The farm also serves as a learning lab and helps to feed the community. Green Leaf Farm participates in Community Support Agricultural membership, through which the farm program donates fresh produce to food insecure communities in appropriate packaging. A half-acre of Green Leaf Farm also serves as a learning lab for the school district. It is a STEM-based initiative that incorporates soil labs that connect students with nature, growing plants, studying the ecosystems, and creating outdoor learning labs.
As a part of the educational experience, Green Leaf Farm also has plans to invite visitors to enjoy the tours, u-pick sales, wagon/sleigh rides, school tours, agriculture technical tours, a roadside stand, agriculture-related crafts/gifts, festivals or fairs, and a farmer's market.
Green Leaf Farm and Halifax County Schools are excited to continue fostering this partnership.
Submitted by:  Faith Boakye