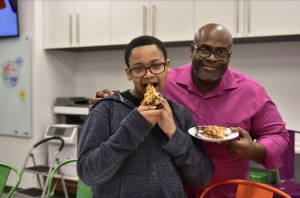 On certain evenings throughout the year, dinner time is a special time at the Poe Center. It's the time that families gather in Poe's CookWELL Kitchen to learn to cook healthy meals – together. The Poe Center partners with WakeMed Health & Hospitals to host cooking classes for pediatric weight management patients as a part of the hospital's nutrition counseling program.
Families attend a series of four classes during which they prepare a new recipe and eat a meal together. Meals feature yummy recipes, such as roasted vegetables, veggie pizza with whole grain crust, and grain bowls. Poe Center health educators provide instruction on food preparation, kitchen safety, and cooking skills. Registered Dietitians from WakeMed help select the recipes and instruct on the nutritional value. Classes take place in the Poe Center's state-of-the-art CookWELL teaching kitchen. Set in a bright and colorful environment complete with high-tech instructional capability, the CookWELL Kitchen features four cooking stations designed to replicate an at-home cooking experience.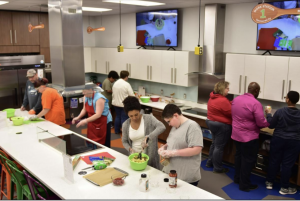 "We are very excited about partnering with WakeMed on the Cook Well, Eat Well program," says Rachel Pohlman, Nutrition Program Director at the Poe Center. "Research shows that kids are more likely to choose healthy foods when they're involved in the process with their parents. By teaching families how to cook healthy meals together, we are helping ensure healthy eating at home."
That appears to be the case for the families in the program. A mother who participated in the program shared her family purchased quinoa for the first time after learning how to make grain bowls during class. A young boy in the program said he liked all the recipes and would eat them all again. A teenage girl reported taking home leftovers to her dad who loved them.
To learn more about the CookWELL Kitchen and the Poe Center's cooking programs, go to
www.poehealth.org
.