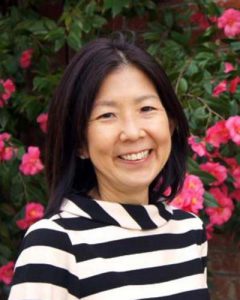 Dear Eat Smart, Move More NC Partners
As the end of the year draws to a close, so does my term as Chair of the Eat Smart, Move More NC movement. Serving in this role has been an honor, as well as a source of growth and inspiration for me thanks to the commitment and support of the Executive Committee.
My term as Chair began shortly before the COVID-19 pandemic began. Despite the uncertainties and challenges that affected people personally and professionally, your Eat Smart, Move More NC Executive Committee rallied not only to continue to keep the movement alive but make it stronger. Highlights of the past two years include:
 Established a subcommittee structure that benefits the movement through diversity in input and decision-making, shared leadership, and promise for sustainability.
Seamlessly moved the Eat Smart, Move More NC partner's meetings to a virtual platform in order to continue to offer this valuable learning and networking opportunity throughout the years.
Bolstered communications with partners and external audiences through social media and the re-establishment of the Eat Smart, Move More NC Facebook page, as well as broader promotions about the movement.
Streamlined ways to enable people across our state to become partners in the Eat Smart, Move More NC movement including clarifying partnership roles and benefits.
Engaged in strategic planning which will continue into early 2022 to ensure that the movement stays relevant and best serves the needs of our partners.
These amazing accomplishments would not have been possible without the individual and collective support of your Eat Smart, Move More NC Executive Committee members. They stepped up to serve as subcommittee chairs, take on new roles in facilitating virtual meetings and social media postings, and came up with creative ways to best engage and serve our partners. Please join me in thanking Jenni Albright, Dawn Daily-Mack, Breyana Davis, Tekeela Green, Catherine Hill, Ashley Honeycutt, Jayne McBurney, Richard Rairigh, and Sherée Vodicka! Special thanks to the Community and Clinical Connections for Prevention and Health Branch with the NC Department of Health and Human Services. Tish Singletary, Branch Head, and her team including Xavier Christmas, Heather Bradley, and Essete Kebede have provided critical ongoing resources and support to the Executive Committee and the movement.
There has never been a time during my 20-plus career in North Carolina when Eat Smart, Move More NC did not have a presence. Despite changes in titles or organizations, staying engaged with the movement has been a vital lifeline to credible and practical information and resources, and to others across the state who are doing things to help communities thrive. My thanks to YOU, our partners, who have stayed engaged, responded to our calls for input and support, and served as champions for Eat Smart, Move More NC in your communities!
Wishing you good health and happiness today and every day!
Joanne Lee, MPH, RD
Chair of Eat Smart, Move More North Carolina
Collaborative Learning Director with Healthy Places by Design