The Osteoarthritis Action Alliance's new WWE Registration Portal, which streamlines the registration, book mailing, data collection, and reporting processes is now available! When participants register through this portal, they can also use it to log their walking goals and accomplishments each week of the 6-week program (as seen here).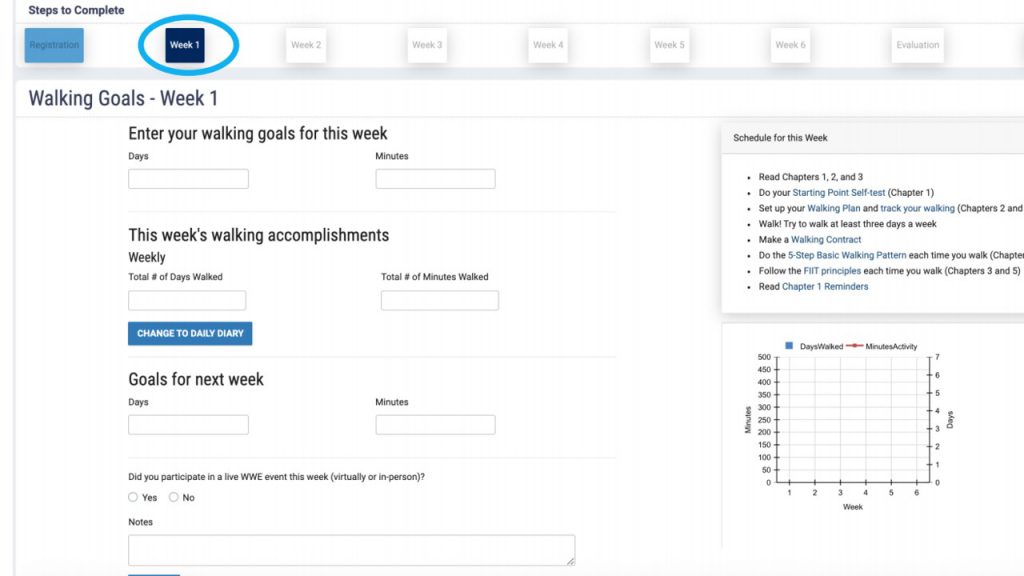 We are now able to offer 3 different versions of the Walk With Ease program:
Walk With Ease (in-person)
Self-directed Walk With Ease
Self-directed Enhanced Walk With Ease
For more information, check out the Arthritis Foundation's Walk With Ease Self-Directed Enhanced Kit.
The Self-Directed version of Walk Ease is open for participants on an ongoing basis and comes with a free WWE book when participants schedule through our website! Refer participants to our website to find a WWE program that works for them!

Please remember, program fidelity is essential to ensure that our programs are running safely and following guidelines. You can view the program fidelity evaluation checklist here under our "program forms" tab on our website. Scroll down to find the Walk with Ease paperwork links as shown below.
We also currently have the ability to train new Walk With Ease leaders! If you know someone who may be interested in becoming a trained WWE leader please have them contact Nadia Z. Mazza at nmazza@unca.edu.
Submitted by: Nadia Mazza