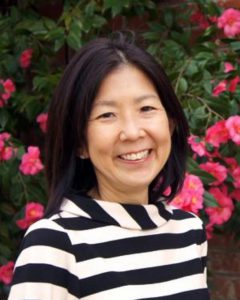 Dear Eat Smart, Move More NC Members,
The end of the calendar year marks momentous beginnings for Eat Smart, Move More NC! As I write this first letter as Chair of your Executive Committee, I feel excited, honored, and grateful.
It is an exciting time as Eat Smart, Move More NC will release 
three key resources
 this month, all designed to support health and well-being across the state. 
North Carolina's Plan to Prevent Overweight and Obesity: Balance How We Eat, Drink, and Move
will guide the work of the movement into the New Year and beyond. We were fortunate to have the expertise of Dr. Carolyn Dunn with N.C. State University who worked with a team to lead the development and writing of the Plan. It outlines a cohesive approach with proven evidence-informed strategies that all North Carolinians can implement or support in order to ensure that they have healthy opportunities in the places people live, learn, earn, play, and pray. The 
Overweight and Obesity in North Carolina: 2020 Update
 will also be released this month. It was prepared by a team led by our Eat Smart, Move More NC Coordinator Jenni Albright. This report provides currently available data about the status of overweight, obesity and related factors that will be helpful to everyone involved in the Eat Smart, Move More NC movement. Both of these new resources will be readily accessible to you as members and to the public via the newly updated 
Eat Smart, Move More NC website
. Our thanks to Catherine Hill and Melissa Rockett with the Division of Public Health, and the website development team for creating a vibrant and user-friendly platform.
The public release of these three resources will occur on December 5, 2019 during the 
next Eat Smart, Move More NC membership meeting
 which will be held at the JC Raulston Arboretum at NC State University (4415 Beryl Road, Raleigh). The formal meeting is from 1:00-3:30 pm and a networking lunch will be provided from 12:00-1:00 pm. We hope to see you there!
There are many reasons that I consider the Chair position of Eat Smart, Move More NC an honor. When I transplanted from Hawai'i to North Carolina in 2001 and began working at a local County health department, the Eat Smart, Move More NC resources provided essential grounding. Over the years, Eat Smart, Move More NC has remained a consistent presence in my work with 
Healthy Places by Design
 and in my own community of Pitt County where the movement's green logo and tagline continue to be used to support health and well-being.
I also want to express my gratitude. The opportunity to serve as the Chair of such a longstanding and influential statewide movement is an honor. Honestly, I might feel daunted by the task if it were not for the reassurance of having a stellar Executive Committee. Please take a moment to read more about your current 
Executive Committee members
 and also reach out to them in person at our membership meetings. We are fortunate to have a mix of Executive Committee members who are veterans with the movement and those who will provide fresh perspectives. We are also grateful to be building from the efforts of all who have served on the Executive Committee in the past, including most recently Melissa Roupe, Shelisa Howard-Martinez, and Shauvon Simmons-Wright.
Finally, my thanks to you and every member who has contributed to the success of Eat Smart, Move More NC by providing input into our key resources, participating and sharing at membership meetings, implementing strategies from our plan in your work and communities, and more! I hope to see you on December 5th and as we work collectively to make North Carolina a place where healthy eating and active living are the norm, rather than the exception.
Be well,
Chair of Eat Smart, Move More North Carolina
Collaborative Learning Director with Healthy Places by Design